VSCC Donington See Red

This VSCC meeting at Donington was the last event in Paddins' second season with his ERA (R10B). He arrived in from San Francisco on the previous Thursday in time to help finish the preparation of his car and to help do the same with my Talbot 105, in which I was a late entry in the pre-war sports- car relay race. Fortunately the ERA had survived Goodwood in good shape and there was not too much to be done. On Friday morning he towed the racer and I drove the Talbot and we arrived at the track in time for signing on and scrutiny. Annie was scheduled to come up Saturday after attending a family christening in London. Signing on was a much better experience than when I last competed at Donington and the VSCC are to be complimented on the efficient but friendly conduct of the whole meeting, despite its size and diversity. It really does make so much difference to the competitors' enjoyment. The VSCC Drivers' Lounge was an innovation to be encouraged but it has a long way to go before it will compete with the legendary HGPCA Red Truck.

One of the highlights of the meeting were the demonstration laps by the Mercedes W125, sent over especially by the factory complete with a massive aluminium keg of fuel. The smiling Tony Dron drew the long straw and the car looked and sounded magnificent. It would be difficult to say whether it or the Spitfire, which was also demonstrated, made the noise one would most like to have on one's desert island disc. VSCC members with long memories will recall seeing Colin Crabbe racing one of these cars in earnest, winning the Seaman Trophy at Oulton Park in 1971, a truly splendid achievement by a private entrant.


There were no fewer than 90 cars in the team race, fortunately not more than 30 of them were on the track at the same time. There were also some half dozen Talbots painted in that light green which like Marmite you either love or hate. I parked mine in the pits with Paddins 'racer to avoid confusion and stepping into any of the others most of which I had looked after over the years before they escaped. The opening race of the two- day meet was for MGs only, taking a leaf (no pun intended) out of the Nash and ERA books. It was won by Anne Templeton in a very neat red KN special single seater, Tom Dark's Q-type went well but couldn't sustain the effort retiring late in the race and second went to Edward Mullins in his pa's K- type with Phillip Walker 3rd in his K3.

Formula Juniors followed, an amazing diversity of cars with Robin Longdon (Lola) and Stuart Roach (Alexis) very convincingly 1st and 2nd.

Now Paddins was in the Pre War Scratch Race, which explains why I had not watched the previous two races being too busy nannying around the ERA. In practice Paddins had failed to better Cobden's Riley special. I must say if I had realised that Riley Falcons went that fast I would have bought one years ago! In the race Paul Mullins led from pole but Paddins had a great struggle with Sean Danaher in his 6CM Maserati, eventually having to give him best to finish third ahead of the Rileys of Candy and Cobden.


I have nothing to say about the motorcycle races, which were held on both days except that I think they add much needed variety for spectator appeal. However it was during the first of these that I remarked on a pool of oil under a Chain -gang Nash parked by our garage. Unexceptional perhaps but it provoked the quote of the meeting from Paddins' friend from San Francisco, Charles McCabe, who said ' how else would you know that it was alive'!

The Group C/GTP cars also had two races and were frighteningly fast. Sumpter in his Porsche and De Vries in his Intrepid (the driver as well I should think) were first and second on both days.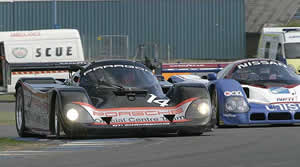 The Team Race was the last on Saturday and as I was in it I can only report that there were 22 teams and that my team (the Talboteers) finished 19th. We had the misfortune that one of our team stopped on the track (broken rocker) which after a suitable delay to ascertain that we would not infringe the 'only one team car on the track' rule, meant that I went out very early. I was then regretting not carrying much surplus fuel, but I needn't have worried because before my stint had ended I was appalled to see an event unfold in my mirror which caused the event to be red-flagged and due to the lateness of the hour not restarted. I saw a red MG PB lose control at Coppice and roll throwing the driver (Plaskitt) out, although fortunately he suffered relatively minor injuries. In fact MGs had a bad team race as young Mullins had hit the wall after a spin at Goddards although he was OK. As was revealed at the splendid post race drink and jazz session the winning teams were Dirty Dogs, 10 Minute Wonders and Team HRGs (at least we can guess which cars were in the latter). On handicap Benjafield's Guests and Loulou's Lovelies out smarted Dirty Dogs and there you have it - who am I to uncover their carefully crafted disguises!

Sunday. After the bikes there was a race for Edwardians though I suspect one or two of them were more accurately Elizabethans! This was closely contested, Gillett won in the Theophile Schneider (Aero special) ahead of Baker's Piccard-Pictet special and Tuluie in Julian Majzub's lovely Sunbeam Indianopolis.

The Flockhart Trophy had a big field of pre-1961 GP cars, a fine mixture of front engine cars with a sprinkling of rear-engine Coopers. The race was won by Phillip Walker in his Lotus 16, from Bullimore's Cooper Type 45 and Stuart Harper's Kurtis Indy Roadster. Thats variety, innit? Elsewhere in the race Paul Mullins was enjoying being the only pre-war entrant in his ERA finishing 11th and sneaking a little more track time before the Seaman and Tania Pilkington upheld the family honour by finishing in her Cooper ahead of a 250F, a DBR4 and a 625 Ferrari (what happened, Bos?)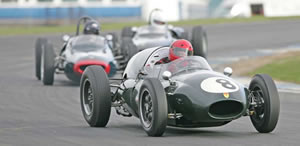 The Vintage Seaman was won by Jonathan Cobb's Frazer Nash Super Sports, super indeed as according to my programme it had a capacity of 3.3 ltrs and it certainly finished ahead of Carr's AC/GN special and Smith-Hilliard's Type 35B Bugatti! All in all it was a bit of a small grid and not as stirring as some of the great battles of real vintage racers in Seamans of the past.


A classier field assembled for the Williams trophy race for two-seater grand prix cars in which Charles Dean in his type 51 Bugatti just managed to keep ahead of Duncan Ricketts in Julian Majzub's Dixon Riley (ex Stephen Curtis I'll have you know but they have undoubtedly improved it since then!). Andy Johnson from Northern Ireland made third place in his nicely green painted (or should that be patinated?) Alfa Monza, a good result on his first appearance in this race.

Hurrah! I've got there at last! The Historic Seaman Trophy, I didn't know on whom to put my money, David (Morris) or Mark (Gillies) both in ERAs. Recently at Laguna Seca Mark had beaten David in the late Rodney Smith's 4CL Maserati and ERA respectively on their first encounter to finish first and second and this had been reversed on the subsequent week- end. This time Mark was driving Rodney's other ERA R3A and David was of course in Humphrey (R11B). After a stirring fight Mark beat David and Duncan Ricketts was third in the E type ERA. The main interest for me turned out to be the nail-biting contest between 'my' man, Paddins, in 'our' car the 1.5ltr R10B and, the by now Donington expert, Paul Mullins in his 2ltr R7B (going rather better than I remember when Dudley Gahagan owned it!). Paddins lost out by only 0.13secs after 12 laps, he certainly never gave up and Paul is surely in his sights for next year.


SC